PUBLICATIONS
About or From
VANESSA VOX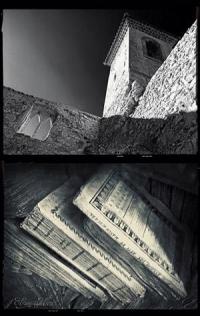 December the 31th, 2017
'Open Window' and 'Old Books' are part of the 'Apps uncovered' series of iphoneographycentral.com. Selected by Trish Korous

Backstories by Vanessa Vox:
'Open Window: The special character of a ruin is that the interior space of a past time slowly transforms into an outer space. This little church in the south of France has lost its roof over the centuries. On the photo you only see a majestic tower and an abandoned wall with an open window. I stood in the shadow of this wall. A shadow which reminds me of the dark nave. The strongly illuminated tower and the window are witness to the rising sun behind the wall. When I took the pic my eyes were caught by the light. The B&W Hipstamatic combo (Scott S, Blackeys IR) finally emphasized the high contrast light scenario.'
'Old Books: Visible traces of time and decay. We look at dense rows of old books in a overfilled castle library. This is a monochrome snapshot from the hip. I tried to accentuate the ancient character as well as the fragile feel of old paper.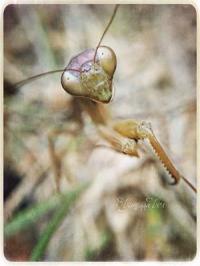 December the 17th, 2017
'Mantis (4)' is part of the 'Apps uncovered' series of iphoneographycentral.com.
Selected by Trish Korous

Backstory by Vanessa Vox: 'What could be more exciting as to sit in the grass face to face with an alien? The mantis has a stereoscopic vision and a small black dot on each eye which is moving. It feels like a close encounter.
I used an Olloclip macro lens on my iPhone. Then I spoke softly to my model, "You are a fascinating creature. Very photogenic!" This conversation lets me forget the challenge to get a sharp shot. The depth of field of a macro lens is extremely small and as everybody knows insects are moving very unpredictably. At the end, I was quite happy that my patience and the patience of the mantis succeeded. Whew… I've got my photo series.'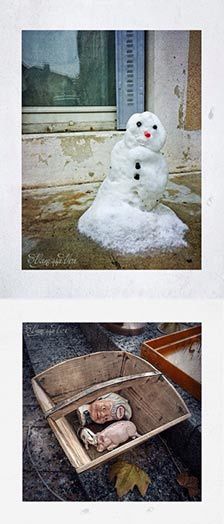 December the 10th, 2017
Two of my photos are part of the 'Apps uncovered' series of iphoneographycentral.com
Selected by Bob Weil.
Backstories by Vanessa Vox:
'Early Winter in the Drôme Provençale: I just walked out of the village shop as this cute snowman looked at me intensely, like saying: 'Please hurry! Get out your iphone cam, I'm afraid I will melt soon looking at you!'. Wow! What a charming young fellow!' (Vanessa Vox)
'Ready For a Walk: Once upon a time there was a noble and friendly grandma, a big pink pig and a tiny black-white piglet… A colorful and imaginative scene rised up in my mind and the story began to weave. It was one of those grey and melancolic days at the end of november.
I've shot this pic on a flea market in the south of France. Little me was immediately caught by the expression of the figures as well as by the various structures of materials: the old untreated wood of the basket, the varnished wood of a homemade board game, the autumn leaves on the weathered cement steps.'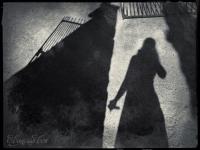 November the 5th, 2017
'Shadows Alive (35)' is part of the 'Apps uncovered' series of iphoneographycentral.com.
Selected by Trish Korous

Backstory by Vanessa Vox: 'I live in a region where the sun dominates the scene very often. Sometimes there is too much brightness and I am longing for the night when the big shadow overwhelms the landscape.
But also during the day when the sun is behind my back, I keep an eye on all these moving shadows which appear here and there and follow me on old stone walls and streets. They seem to tell me stories about another life beyond the daily routine. They tell stories about things happening in another world.
I remember that I was always fascinated by early German expressionistic movies. They played with shadows to create a surreal vision somewhere between reality and human fears. But in my series 'Shadows alive' there is more than fear. There are also dancing bodies and stories of corresponding souls. And sometimes the shadows communicate with the real world and the real things. But what is real?'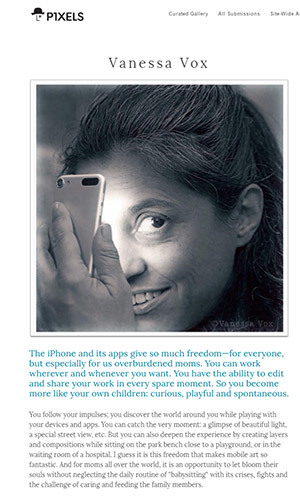 May the 13th, 2017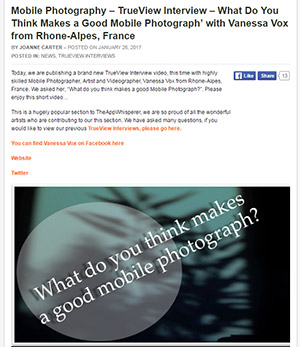 January the 26th, 2017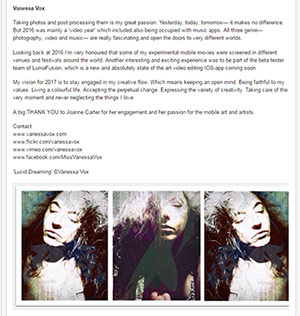 January the 4th, 2017
theappwhisperer.com by Joanne Carter
'Taking photos and post processing them is my great passion. Yesterday, today, tomorrow— it makes no difference. But 2016 was mainly a 'video year' which included also being occupied with music apps. All three genre— photography, video and music— are really fascinating and open the doors to very different worlds.
Looking back at 2016 I'm very honoured that some of my experimental mobile movies were screened in different venues and festivals around the world. Another interesting and exciting experience was to be part of the beta tester team of LumaFusion, which is a new and absolutely state of the art video editing IOS-app coming soon.
My vision for 2017 is to stay engaged in my creative flow. Which means keeping an open mind. Being faithful to my values. Living a colourful life. Accepting the perpetual change. Expressing the variety of creativity. Taking care of the very moment and never neglecting the things I love' (written by Vanessa Vox)
http://theappwhisperer.com/2017/01/mobile-photography-art-new-year-resolutions-2017-around-world/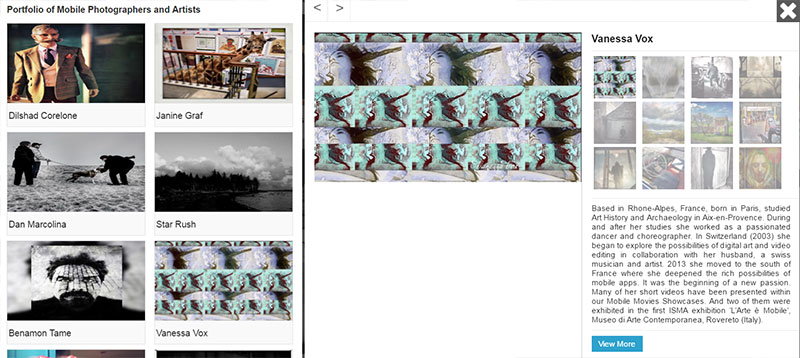 May the 27th, 2016
Photo by Donna Donato 'Born'
Quote by Vanessa Vox
in the blog
'dreamstations, dreams and photographs'
by sentimental deed
https://dreamstations.blogspot.fr/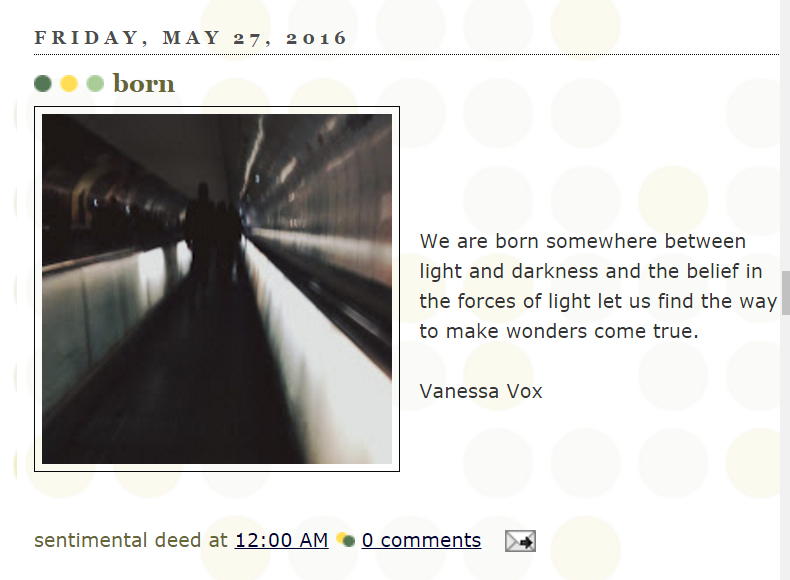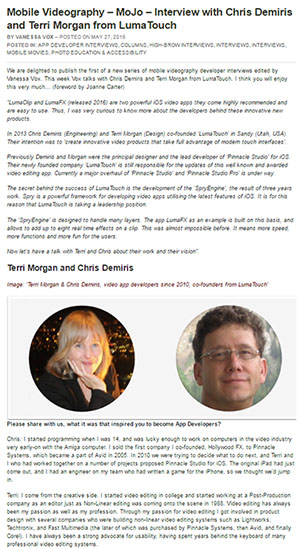 May the 27th, 2016
Interview with Chris Demiris and Terri Morgan
from LumaTouch
by Vanessa Vox
'LumaClip and LumaFX (released 2016) are two powerful iOS video apps they come highly recommended and are easy to use. Thus, I was very curious to know more about the developers behind these innovative new products.
In 2013 Chris Demiris (Engineering) and Terri Morgan (Design) co-founded 'LumaTouch' in Sandy (Utah, USA). Their intention was to 'create innovative video products that take full advantage of modern touch interfaces'...'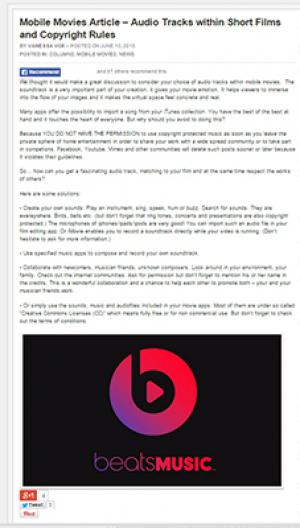 June the 10th, 2015
Audio Tracks within Short Films and Copyright Rules
by Vanessa Vox
'We thought it would make a great discussion to consider your choice of audio tracks within mobile movies. The soundtrack is a very important part of your creation, it gives your movie emotion. It helps viewers to immerse into the flow of your images and it makes the virtual space feel concrete and real...'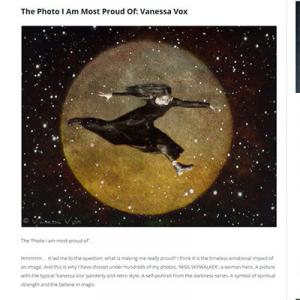 March the 12th, 2015
'Photo I am Most Proud Of:
Vanessa Vox'
in Mobiography
by Andy Butler
'Vanessa's work is a combination of self portraits, abstract montages and Hipstamatic style street images. For me it is images like 'Shadows Alive 2', 'Spread Your Wings' and 'Me and My Porcelain Bird' that are classic examples of Vanessa's unique style of mobile photography'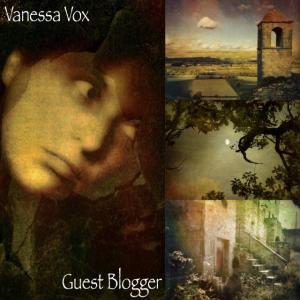 February the 21th,2015
Guest Blogger Vanessa Vox
in 'Combo Apps'
by Tina Rice
"She has a very unique
and beautiful mobile art gallery.
Her work includes self portraits and landscapes.
What her work reminds of
are Biblical Storytelling and Folklore.
The images are filled with very vivid details
with dream like state while you're awake"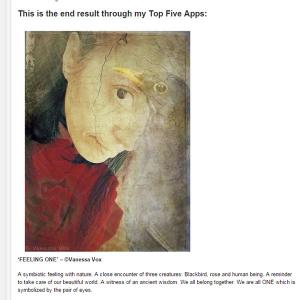 April the 28th, 2014
'Top five Photo Apps -
Photo App Lounge by Vanessa Vox'
in theappwhisperer
by Joanne Carter
with my photo 'Feeling one'
'A symbiotic feeling with nature. A close encounter of three creatures: Blackbird, rose and human being. A reminder to take care of our beautiful world. A witness of an ancient wisdom. We all belong together. We are all ONE which is symbolized by the pair of eyes'
(Vanessa Vox)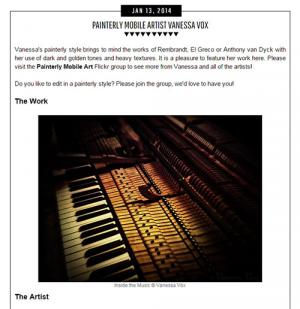 January the 13th, 2014
'Painterly Mobile Artist
Vanessa Vox'
in 'Art of Mob'
by Geri Centonze
'Vanessa's painterly style brings to mind
the works of Rembrandt,
El Greco or Anthony van Dyck
with her use of dark and golden tones
and heavy textures'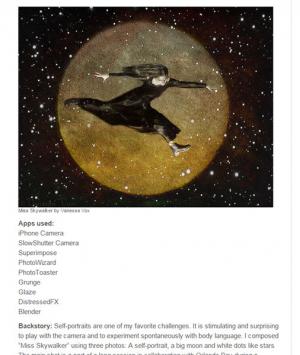 January the 11th, 2014
"Miss Skywalker"
"Apps Uncovered"
in iphoneographycentral,
by Bob Weil
'The first image by Vanessa Vox (Miss Skywalker)
artfully conveys with a self-portrait
a sense of strength and self-confidence.
For me, this image suggests that there's a natural tension
between reality and dream (aspiration?)
and that this is a positive and necessary aspect of life'